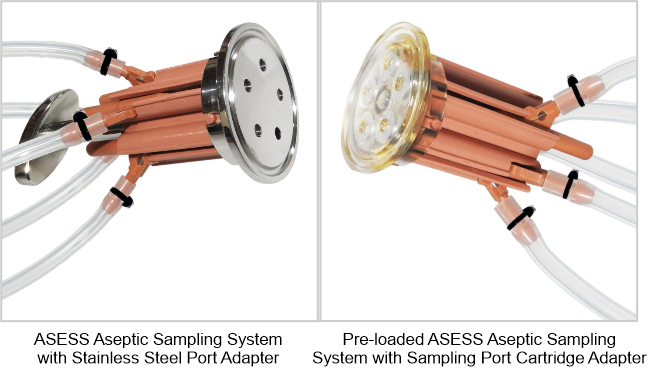 Aseptic closed single use sampling systems offer multiple advantages in terms of minimizing risk of:
Process Contamination
Loss of sample integrity and consistency
Environmental contamination
Operator safety in case of cytotoxic or other hazardous fluids
In addition, these single use disposable sampling systems minimize validation documentation related to cleaning and sterilization.
However, biopharmaceutical processes can extend up to many weeks and involve multiple sampling at different time points and also for different types of analysis/ tests such as cell density and viability, bioburden, endotoxins, sterility etc. Such processes require multiple sampling systems with different sampling containers such as bags, bottles, centrifugal tubes etc. The user requires a multipoint 5 port sampling port adapter to connect these to the bioreactor/ process vessel in order to accommodate such varied sampling needs.
MDI pre-loaded sampling systems with disposable sampling port cartridge adapter do away with the tedious, time-consuming assembly of ASESS sampling system ports in the cartridge and subsequently in the multiport adapters. This not only provides an easy, faster, ready-to-use sampling system which fits directly onto the vessel port but also does away with any cleaning validations associated with multipoint reusable sampling port adapters.
These preloaded sampling systems are available customized as per pre-approved drawings by the user.