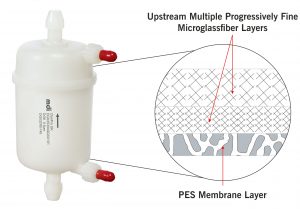 Biopharmaceutical manufacturing processes involve multiple process steps with a wide variety of process streams, including some with the most challenging contamination profiles. These contaminants range from cell fragments, cell organelles, colloids and lipids to very fine protein precipitates. Some of these process steps use filter aids which although aid in retention of some of these contaminants, contribute their own fines into the downstream. As expensive and sophisticated equipment and consumables are used for downstream purification, such high contamination profile process streams tend to rapidly clog the 0.2µm filters, normally used to protect these.
ClariPro GK is a specially designed multilayered filtration device offering a combination of progressively fine microglassfiber layers and a low protein binding polyethersulfone membrane as the final layer. This special filter employs multiple retention mechanisms of adsorption, depth and sieving to remove colloidal contaminants as well as microorganisms.
ClariPro GK has been successfully used for clarification of cell harvest supernatants, removal of very fine precipitates from post virus inactivation process intermediates, pre-filtration of serum solutions and polishing of turbid solutions.
Click here for more information on ClariPro GK.