Clarification of turbid solutions is a key requirement to achieve critical objectives in the pharmaceutical and bio-pharmaceutical manufacturing which range from clarification, polishing, bio-burden reduction to sterilization of process fluids.
These process streams can range from easy to filter, predictable solutions such as large volume parenteral, water for injection and buffers, to difficult to filter colloidal solutions, emulsions, liposomal drug delivery systems, cell cultures, lysates, plasma, etc.
0.2 µm Membrane filters are used at various stages of the manufacturing process and fluids with a wide ranging contamination profile,  including difficult to filter colloids and compressible particles, pose a serious challenge to these filters. This leads to lower throughputs and higher filtration footprint.
MDI ClariPro GK, a specially designed filter incorporating multiple microglassfiber upstream layers and a PES membrane downstream layer caters to pre-filtration and clarification applications in biopharmaceutical process development as well as manufacturing processes for difficult to filter fluid. These capsules are gamma sterilizable and offer high dirt hold capacity and efficient retention of colloidal particles to give clear downstream in case of turbid solutions along with bio-burden reduction.
A recent study with a gelatin + sugar solution, used as a stabilizer in vaccine formulation to keep the vaccine potent during transportation, storage, freezing and drying, shows the manifold impact of ClariPro GK filters, in comparison to other typically used pre-filters, in enhancing throughputs from a 0.2µm sterilizing filter.
The throughput studies were performed using 47 mm diameter disc filters with an EFA of 10 cm². Obtained results were extrapolated and used to calculate the required filtration area to filter 100 liter batches.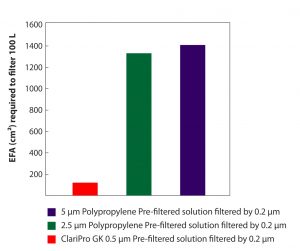 Click here for more information on ClariPro GK.